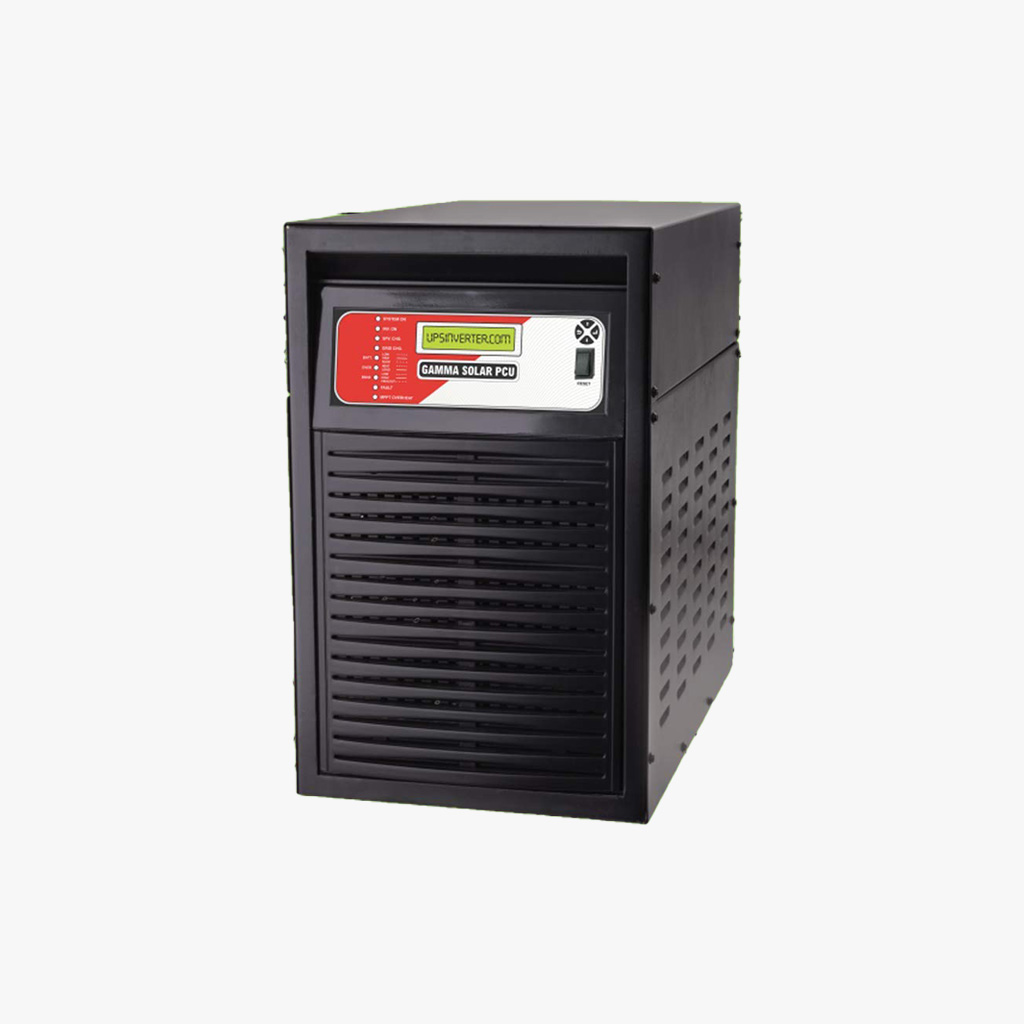 UTL Gamma 5KVA 48V Solar MPPT Off Grid Inverter
Approximate Price -Taxes Extra
Product Description
Solar Battery for Long Life
The solar battery fitted in gamma solar PCU feeds to it at a constant boost charging current until its voltage reaches 14.2V and the float current (which is very close to zero) then maintains this voltage above 13V. Thus reducing the float current (flowing for the longest period during the entire process) becomes zero, which ultimately results in greatly increased battery life and is fully charged simultaneously.
Extensive electronic protection
Gamma Solar PCU which ensures safety, it prevents reverse flow from battery to solar array, it provides load short circuit protection, it provides solar battery through DC fuse, overload protection, input low or high, output low / high or solar panel provides reverse protection.
Utilizes maximum power available from the solar panel
The gamma solar PCU senses the point of maximum power available in the solar panel and charges the battery with this maximum power. Therefore, at any given time the battery is charged with the maximum possible power.
LCD display
It has an LCD display for better user interface that displays battery voltage, current charge, current discharging current, output voltage, output frequency, output load percentage, input voltage, input frequency, solar voltage, solar current and solar energy.
Technical Description
| | |
| --- | --- |
| Solar PCU Capacity | 5KVA 48V |
| Input Voltage Range (min-max) | 80-230 VDC |
| Maximum PV Power Recommended | 5KW |
| Types of Charger | PWM with MPPT |
| Charge Controller Peak Efficiency | 95% |
| Battery Low Buzzer | 10.2V |
| Battery Low Cut | 10.0V |
| Battery High Cut | 15.5V |
| Battery Charging Voltage by SPV | 14.5V |
| Battery Charging Current by SPV | 18A |
| Battery Charging Voltage by GRID | 14.2V |
| Battery Charging Current by GRID | 10A |
| Grid Low Cut Voltage ( IT Load Disable/Enable) | 120/175V |
| Grid High Cut Voltage ( IT Load Disable/Enable) | 280/255V |
| Inverter Nominal Output Voltage | 230VAC |
| Output Supply Phase | 1 phase, 3 wire |
| Output Waveform | Sine wave |
| Nominal Frequency | 50.0 HZ |
| Load Current | 15.2 A |
| Inverter Peak Efficiency | >88% |
| Protections | Overload, Battery low, Battery high, Output low, Output high, Output Short Circuit, Overheat, Under Frequency, Over Frequency, Solar panel reverse |
| Display Parameters | Battery Voltage, Charging Current, Discharging Current* Solar Voltage, Solar Current, Instantaneous Power, Grid Voltage, I/P Frequency Output Voltage, Output Load% O/P Frequency Grid, Inverter & SPV Charger Status |
| Switches | Reset for System ON/OFF, up, Down, Back, Enter (for LCD Configuration) |
| Indications | System ON, Inv. ON, SPV Charging, Grid Charging, Battery Low/High, Overload, Overheat, Mains Low, Mains High, Under frequency, Over frequency, (IT Mode, Grid Charging, NLSD, Boost Charging, DG Mode)Enable/Disable* |
| Max Relative Humidity @25*C (non condensing) | 95% |
| Weight | 55KG |
| Dimension (L X W X H) | 18 X 10 X 17 inch |
Related Products