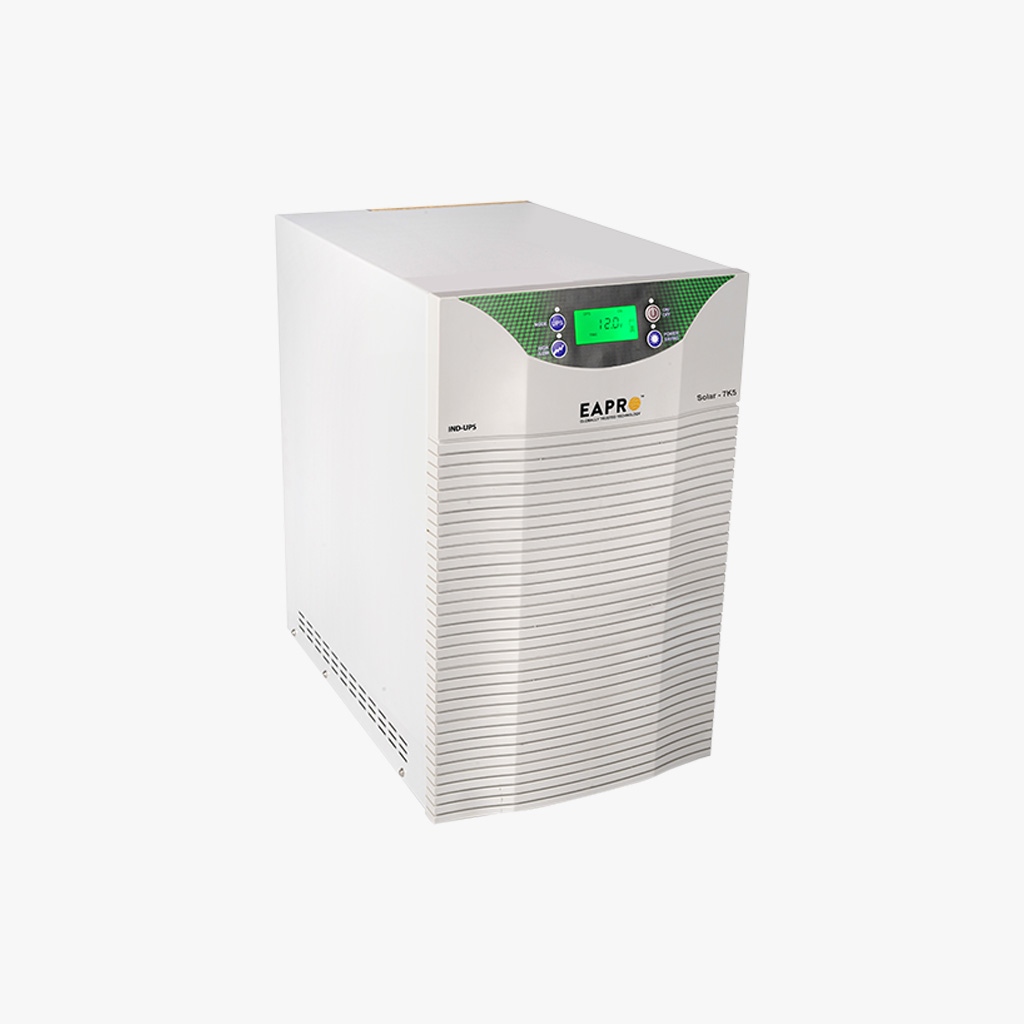 EAPRO 7.5 KVA/120V PWM Off-Grid Solar Inverter
Approximate Price
Product Description
Rated AC power: 7.5KVA, 120V
Operating Voltage 100V-280V
Provision for the setting of critical parameters as per user requirement, like, Time, Boost Battery Voltage, Solar Max charging current, Battery Low Cut voltage etc
Max supported panel power: 120V up to 8000Wp
Charge Controller Rating – 50A/120V, with 98% efficiency for fast charging
24 Months Warranty
Efficient Current Charging at Low Mains in Normal Mode only.
Intelligent Battery Charging and Charge Sharing with Mains/Charging by solar power only.
Dual Charging current option for Normal Charging and High Charging
High Power new generation MOSFET capable of handling high inrush/surge current.
Intelligent Multicolour LCD display for all system parameters
Programmed inbuilt cooling fan.
Inbuilt fully regulated charge controller.
Technical Description
| | |
| --- | --- |
| Capacity (VA) | 7.5KVA |
| Nominal battery voltage (Vdc) | 120V |
| Charge Controller Type | PWM |
| Charge Controller Rating | 50A/120V |
| Maximum PV Power | 8000Wp |
| Rated Output Power (kVA) | 7.5KVA |
| Input Voltage Range (Voc) | 216V |
| Input Voltage Range (Vmp) | 145V-170V |
| Battery Boost volatage (Adjustable) | 14.4V (Default setting) |
| Battery Low Cut (Adjustable) | 10.6V (Default setting) |
| Grid charging current(Adjustable) | 18A (Default setting) |
| Solar Charging Current(Adjustable) | 40A (Default setting) |
| Dimensions (L*W*H) [mm] | 530*370*620 mm (Net Weight 64.57 Kg) |
| Supported Battery Types | Flat,Tubular, VRLA(SMF) |
Related Products